10 Sweet and Savory Maple Syrup Recipes For Fall
September 26, 2019
Sweeten up your cooking routine this fall with 10 maple syrup recipes spanning from the tried and true breakfast, to snacks, side dishes, and mains. 
Maple syrup is way up there on the list of autumnal flavors we love. Directly behind apples, a smidge ahead of pomegranates, and right next to Brussels sprouts and squash.
And while you may immediately associate it with a generous glug on your silver dollar breakfast pancakes, maple syrup wears many hats — sweet and savory alike.
Here are 10 of our all-time favorites.
Making overnight oats is the speediest way to ensure eating a delicious breakfast remains part of your weekday groove this fall. It's easy to prep, even easier to devour, and leaves us feeling full until lunch. So whether you're dying to try this breakfast craze or already hooked, you simply must try making it with turmeric and maple-spiced golden milk. Get the recipe here.
A Dutch baby is basically a next-level pancake: the batter is poured into a pan, given a few slices of fruit, and baked in the oven until it puffs up and puts all those silver-dollar-shaped 'cakes to shame. In this recipe, we're topping the masterpiece with stewed apples, orange segments, and a generous drizzle of maple syrup — then serving it alongside flavorful sausage for an extra oomph. Get the recipe here.
Up your snack game with irresistibly sweet, caramel maple popcorn and movie night will never be the same. Get the recipe (along with three other flavor variations) here.
There's something about the combination of maple syrup and warm spices like cinnamon and nutmeg that make this mashed potato side dish feel like a big, autumnal hug. The pecans don't hurt, either. Get the recipe here.
Now we may be biased, but we're pretty sure this recipe will revolutionize the way you think about pasta sauce. Because when browned butter, maple syrup, and sage join forces, the result is surprisingly sweet and fragrant — the perfect coating for tender, pillowy gnocchi. And just to make sure there's no shortage of cozy flavors, we're adding hearty Brussels sprouts and butternut squash to this colorful, comfy dish. Get the recipe here.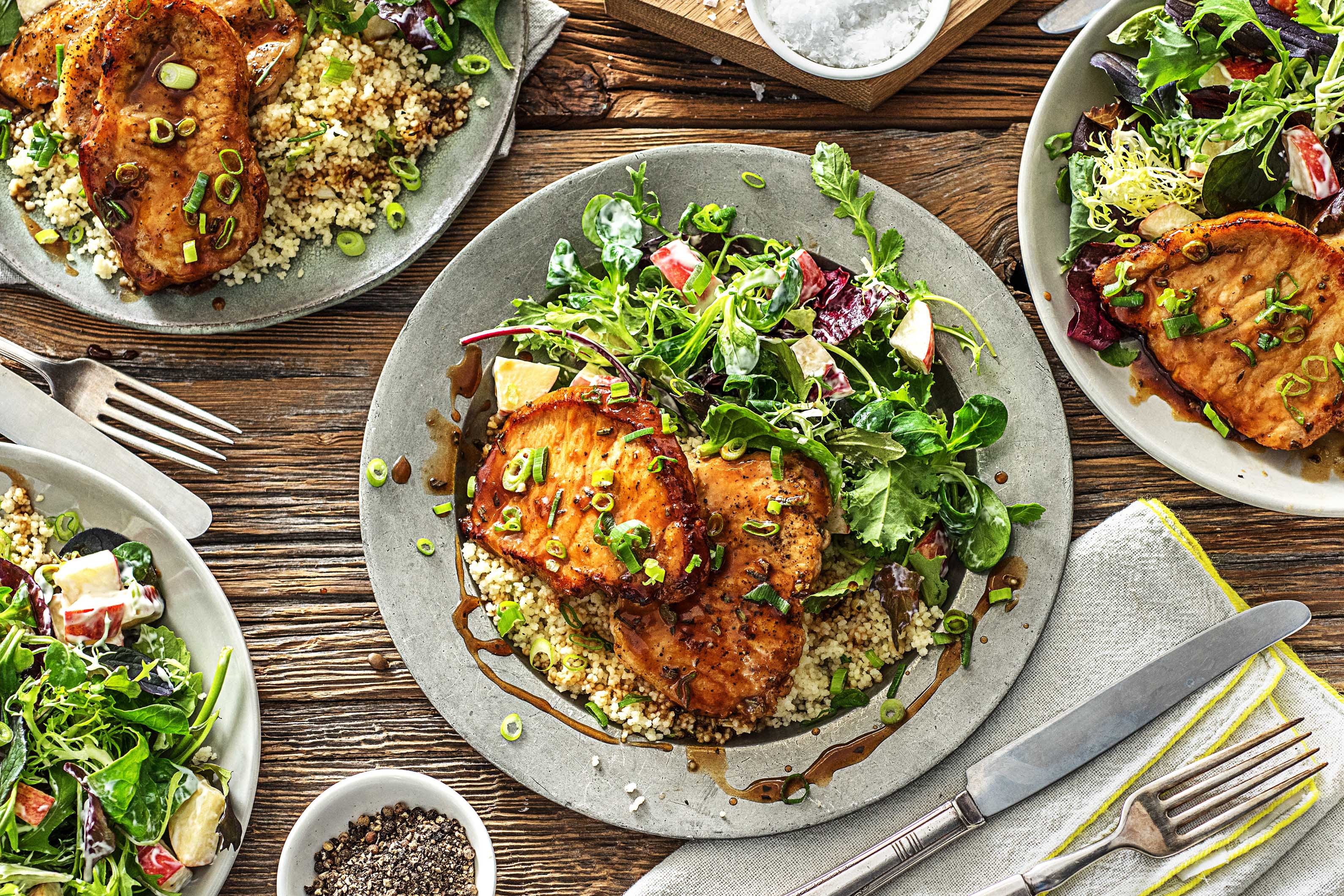 In this recipe, the maple syrup gets stirred into the sauce for the meat, coating each cutlet in sticky deliciousness. The apple, on the other hand, is a highlight in the side salad, which also gets a boost from a creamy dressing. With couscous as a hearty base to back up all those flavors, you've got nothing less than sweet, sweet perfection. Get the recipe here.
Striking blood oranges are the perfect accent next to pan-seared duck breasts, cutting through the meat's incredibly rich flavor. Special shout-out to the maple mustard sauce, too, which makes an appearance at the end to add an extra special, drizzly oomph. And if some makes its way to the rosemary potatoes, you won't be sorry. Just think of this meal as duck à l'orange elevated to the max. Get the recipe here.
Maple syrup and mustard are a perfect example of what happens when opposites attract. Maple is friendly and fun, with a sweetness that even the pickiest of eaters will love. Mustard, on the other hand, is feisty, bringing a little somethin' somethin' for the adults. Mix the two together, put them on pork, and you've got a meal the whole fam will rave about. Get the recipe here.
This recipe was tailor-made for anyone with an insatiable sweet tooth. You know, the diners who usually need an extra nudge to down their veggies. With cinnamon-spiced sweet potatoes and a maple syrup glaze, there will be no shortage of candy-like flavors on the plate, nor of nutrients like vitamin A. But because this is dinnertime, there are still savory elements to unite it all, like white meat chicken and crisp, garlicky green beans. Get the recipe here.
Pure maple syrup, tart balsamic vinegar, and woodsy thyme team up for a delicious glaze over flaky, melt-in-your-mouth cod. Then, of course, there's the mashed butternut squash bulked up with sour cream for tang and creaminess. And last but not least? Nutty roasted Brussels to finish off this quintessential autumn dish. Get the recipe here.
While you're at it, learn other ways to naturally sweeten up dinnertime (think honey, jam, fresh and dried fruit).